Daily Inspiration
What journey are you on - earthly or spiritual? Is your journey motivated by love, starting with yourself, or is your journey motivated by getting love and avoiding pain? Are you doing to define your being, or are you doing to express your being? Do you give to others but not to yourself - giving to get? Do you expect others or work or food or TV or alcohol or drugs to fill your emptiness instead of opening to Spirit to fill you with love and peace? Today, notice, without judgment, the journey you are on, moment by moment.
By

Dr. Margaret Paul

Private Phone & Skype Sessions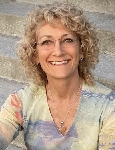 Stel Fine, M.A.
Phone & Skype sessions are available with Dr. Margaret Paul and other Inner Bonding® Facilitators.
Mark Lersch - Inner Bonding Facilitator
Mark demonstrates a fairly long Inner Bonding process. This video is about 15 minutes.