Daily Inspiration
Laughter raises our frequency and is healing for our body and soul. Our essence takes life lightly and finds humor even in difficult times. Our wounded self often wants to take things very seriously. Today, choose lightness of being and allow your laughter to flow.
By

Dr. Margaret Paul

Private Phone & Skype Sessions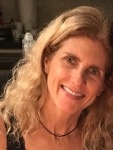 Sharon Appleby
Phone & Skype sessions are available with Dr. Margaret Paul and other Inner Bonding® Facilitators.
Mark Lersch - Inner Bonding Facilitator
Mark demonstrates a fairly long Inner Bonding process. This video is about 15 minutes.