Daily Inspiration
Ask yourself 100 times today, "What is in my highest good right now?" In this moment, do you need to work, exercise or rest? Do you need to eat or stop eating? Do you need to offer caring or support to someone? Do you need to speak up for yourself with someone? Asking what is in your highest good will keep you connected with Spirit and on track in taking loving action for yourself and with others.
By

Dr. Margaret Paul

Private Phone & Skype Sessions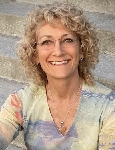 Stel Fine, M.A.
Phone & Skype sessions are available with Dr. Margaret Paul and other Inner Bonding® Facilitators.
Mark Lersch - Inner Bonding Facilitator
Mark demonstrates a fairly long Inner Bonding process. This video is about 15 minutes.