Love Yourself
Transform Your Life
With The Healing Power Of
SELF-LOVE
End Anxiety, Guilt, Shame, Toxic Anger, Depression, Unhealthy Addictions & Relationship Failure With My Foundational, 30-Day Inner Bonding Program
Does your life seem rock-solid from the outside, yet you still have this nagging sense that there's something "unhealed" within you"?
Maybe you struggle with anxiety, anger, guilt, or depression that comes out of nowhere or persists for too long.
Or because you can't resist the pull to soothe yourself with unhealthy things like sugar, alcohol, or too much screen time.
Maybe you're still dealing with a lot of conflict in your relationships. You get triggered—often by the same things.
You may wonder if this is just how life is. If this is just something you have to accept.
But I can tell you with 100% certainty, that life ISN'T meant to feel this way.
It's possible to feel lighter, to laugh more, to have creative spark.
It's possible to have warm, loving relationships, and be able to share love rather than always trying to get love.
It's possible to feel unbound joy and a gratitude about your life every morning when you wake up.
And no, this kind of contentment isn't dependent on your outside circumstances or the people in your life being "perfect" or loving you perfectly.
It happens because you have access to a consistent inner source of UNCONDITIONAL LOVE, no matter what's happening around you.
How do you gain access to that?
Through Inner Bonding.
The Most Transformational Tool I Know That Always Works When You Do It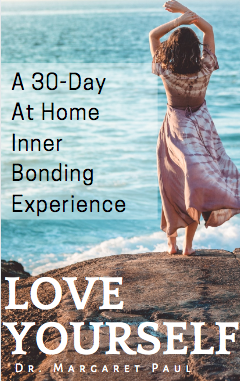 For 53 years, I've been helping people learn how to heal difficult emotions and feel more inner peace and joy through the process of Inner Bonding.
Inner Bonding is the most powerful transformational tool I know. It always works when you do it.
It works because it helps you access a source of higher guidance that's always there for you.
It works because it allows you to feel worthy of love, even if you've always felt "less-than."
It works because it gives you simple, specific tools that make it clear what you need to do (or stop doing) in order to be loving to yourself and others.
In other words, the process of Inner Bonding always works when you do it because it teaches you how to LOVE YOURSELF, how to fill yourself self up with love so you can truly love others.
When You Know How to Love Yourself, You Know How to HEAL Yourself
When you love yourself, you aren't self-critical or judgmental of others.
You take responsibility for your feelings, and you have compassion for yourself and everyone around you.
You know that whatever you're feeling, there must be a very good reason for feeling the way you do.
You don't feel helpless over your emotions, or at the whim of your impulses.
You can name the thoughts that led to your feelings, so you can choose different thoughts that are more empowering and self-compassionate.
You can choose to break the cycle of false beliefs and seek out the Truth in any situation.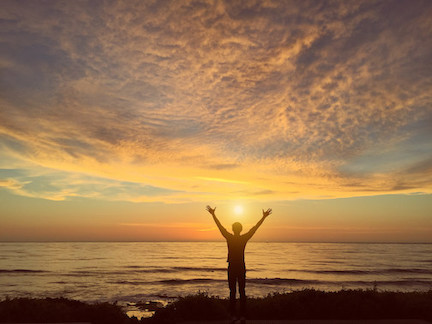 You don't try to control what others think or do, because you know the only thing you have control over is your thoughts and actions. This releases the tension you feel on the inside, and allows you to be naturally more caring and loving toward yourself and others.
You have the courage and wisdom to follow through on the loving action you know you need to take on your behalf.
These profound benefits of Inner Bonding will completely transform the way you feel about yourself, your life and ALL of your relationships.
Unfortunately, even though the 6-step process of Inner Bonding is simple, it's not always EASY. Here's why...
It's Not Enough to Just KNOW It Intellectually. You Must Practice It Consistently and Effectively
Simply knowing the steps, or reciting them in your mind, or reading about them isn't enough.
Successful Inner Bonding is EXPERIENTIAL.
You must learn to do it effectively. You can't skip the steps or shortcut the process.
You must do it consistently by taking concrete daily steps to integrate Inner Bonding into your life.
You may be able do this on your own by reading my blog or reading about Inner Bonding, but ask yourself—are you the type of person who is more successful learning something new when you have more guidance?
Do you benefit from:
step-by-step training

a more thorough explanation of the "why" and "how"

practical instructions on how to practice what you're learning

and daily action steps?
If so, my Love Yourself: 30-Day Inner Bonding Experience can help.
Love Yourself: 30-Day Inner Bonding Experience: My Core Inner Bonding Program to Help You Master the Process of Loving Yourself
Love Yourself: 30-Day Inner Bonding Experience is the core Inner Bonding training for those who want to learn how to love themselves.
It is a step-by-step, practical, at-home, intensive training program that takes as little as 15-20 minutes a day and gives you the knowledge and action steps you need to consistently practice and fully integrate Inner Bonding into your daily life.
Yes, you can break the self-abandoning habits of the wounded self FOR GOOD and heal yourself through loving yourself.
Start Today!
You can begin today or anytime, and this is what you'll receive:
30 Days of Inner Bonding Training: Each day, for 30 days, you'll receive an email with a learning module from me that contains that day's Inner Bonding training. You'll get an in-depth understanding of what each of the steps of Inner Bonding entail, along with detailed instructions on how to do the steps on your own.

I'll explain the common mistakes to avoid when taking each of the six steps, so you can start your healing journey without getting hung up every step of the way.

Even though this is a 30-day program, you can revisit each module as often as you like or skip a day or two (and catch up later). It is self-guided and you are learning at your own pace.


Daily Video Lessons: Each day you'll also receive a 5-10 minute video I recorded in 2021 for this program that will support you in your healing process.

Daily Action Steps: You'll receive daily action steps to help you incorporate what you're learning into everyday life, so you can stay engaged in your journey.

If You Follow This Program, In 30 Days, Your Life Will Change
One month from now, you will:
Experience More Ease and Joy Each Day
You'll no longer be plagued by an undercurrent of anxiety, anger, malaise. In daily situations you'll feel more at ease. You may even have moments of pure joy.
Discover the Underlying Cause of Painful Feelings
Once you clearly understand the specific cause of difficult emotions you'll learn a powerful method for healing these emotions using your own inner resources. Knowing the very good reasons you feel the way you do is a critical step in building deep self-compassion and unshakable self-love.
Eliminate People-Pleasing
Your self-worth will not be tied to how others think or feel about you, your actions or your choices.
Tap Into Your Own Source of Truth
You'll stop worrying, second-guessing yourself, and debating what to do because you'll know how to connect with your personal source of spiritual / higher guidance. This means you always have a source of Truth at your disposal anytime, anywhere.
Relax
You'll feel much more relaxed knowing that the decisions and actions you're taking are in your highest good.
Break Free of Addictions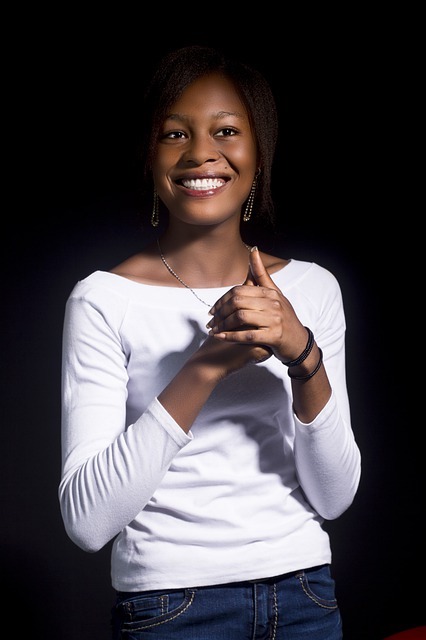 You'll be free of the vices that steal your health and time. No more overeating, overspending, overindulging in too much alcohol, screen time or unhealthy realtionships.
Love Your Inner Child
You'll stop automatically turning to self-critical, self-deprecating habits of the wounded self, and instead be filled with curiosity and love for your Inner Child.
Improve All Relatioships
You will no longer have the need for blame or control when painful feelings come up. You'll know that you, and you alone, are responsible for your emotional wellbeing, a Truth that will empower you and set you free.

When you learn how to love yourself through this program, your ENTIRE LIFE will blossom and expand.

You'll have the tools and resources to heal yourself, by yourself, at home, anytime.

You'll no longer be a victim of anxiety, fear, anger, depression, guilt or any of the heavy, painful emotions that have been keeping you from fully realizing your personal success or from connecting with others on a deep level.


Start Your 30-Day Love Yourself
Inner Bonding Journey
Today
You'll receive 30 days of in-depth Inner Bonding training, video lectures and audio visualizations, and daily action steps to help you integrate what you're learning. This option is self-guided and completed at your own pace.
30 Days of Inner Bonding Training Emailed To You
Action Steps to Take Daily
Daily Video Lessons
Our Guarantee
We will refund the cost of the course minus the cost of PayPal if you cancel within one week after the start of the course.
Program Testimonials
"This 30-day Love Yourself course has been the missing piece for me after many years of therapy, training courses and spiritual development. It has connected all the dots and created a true connection between my feeling self and Inner Guidance. I feel way more aware of myself, of my thoughts, emotions and taking responsibility for it. This course is a very clear and complete step by step process which allows you to become aware of undesirable thoughts and behavior and lovingly create a true change within yourself. I can't thank Margaret enough for her loving, inspirational and insightful guidance." —Inge Simonis
"I have been doing traditional therapy for 20 years and never have I been asked to check in with my feelings and never have I understood the concept of the wounded self or inner child. Inner bonding has helped me to understand that I am not my wounded self, I am my essence. It's been freeing to know that I am not my fears, insecurities and trauma. Knowing I can nurture and grow my Loving Adult gives me a new lease on life and I am looking forward to learning how to love myself so that I can finally share love instead of protecting myself against being hurt. I have lots of work to do, but now I know there is a clear path." —L. Harris
"The Love Yourself course is truly life changing. The Inner Bonding process has always made complete sense to me, but this course took it to a whole new level by actually guiding and inspiring me to instill the practices into my life as a daily habit. During the 30 days, Margaret guides you lovingly step by step along a path that makes both logical and spiritual sense. It seemed every time I had a question, the next lesson gave me the answers! As I practice Inner Bonding, I'm slowly but surely seeing my false beliefs lose a little more power and my capacity for love toward myself and others to grow - even in challenging situations. I am beyond grateful to have finally found the tools I need to live with an open heart." —Suzy S
"I can hardly find the words to express how much I loved this course! It gave me the courage to stand and be fully present in the midst of feelings that before seemed impossible to bear. It gave me the tools to face my deepest fears and make some life-changing decisions for the love of myself. I woke up every day with great excitement, looking forward to opening the 'Love Yourself' email that never failed to fill me with embodied realizations. Supported by Margaret's loving presence, this is the Ultimate Course that should be known and done by the whole world. I loved every single bit of it! " —Anikó
"WOW this month has been life changing for me. I feel that Inner Bonding has the capacity to help empower everyone to heal their wounded self. This Love Yourself course with the inspiring Dr. Margaret Paul has to be the most healing and helpful thing I've ever taken part of. I was held in so much compassion and support as I suffered with severe PTSD because of my severe childhood abuse. Margaret has taught me so many techniques during this month to cope...and my PTSD is diminishing." —Melinda Griffiths
"Traditional psychotherapy could take years before it gives you the direct help you receive here from the first day." ~R. Hutchinson, M.A.
"I believe that this course, and your approach, integrates the spiritual, relational, developmental and emotional elements of wellbeing and blends them with neuroscience, somatic forms of therapy, psychological concepts, trauma and attachment theory, and cutting edge research on the micro biome/gut health - all with deep compassion and a loving openness - so important for us individually and for the planet. This combination is missing from many other types of personal growth work or therapy for depression, anxiety, trauma, or relationship difficulties....I discovered things about myself that I had not understood, and as my awareness of myself grew, it translated to being better able to support my clients. I cannot recommend your course highly enough." ~F
"Thank you for a truly phenomenal course. This has been by far the best thing I have done for myself in all my many years of soul work....You can seek therapy for years at $100 a session or do a course with you that personally took me much further for a fraction of the cost....I'm glad I found you!" —Karen
"The Inner Bonding Course has been a great blessing; the key to healing. I've been searching for this for a lifetime. Investing all my resources to learn how to connect and love more. To develop spiritually and be of greater service to others. The blessings will be immeasurable. Thank you more than I can say." —Joy
"...a truly awesome course! I feel like I've learned something so valuable that I will be using for the rest of my life. ...I'm so grateful —Liz
"From all other courses and trainings, this one is a diamond and I advise it to everyone...taking it was certainly one of the best things I could ever do for myself." ~Olga
"I've worked very hard for almost 20 years...by going to therapy and in other ways...However, I've still not been able to shake something off where I've felt never good enough. This model and process has created a significant shift in me in a very genuine and palpable way already. I can't believe it and am so grateful." ~Leah, Australia
"I have become aware of just how much emotional maturity was missing in me. I now have the tools to examine what is going on inside, and what to do about it. I am THRILLED!" —David G.
"Your courses have been wonderful, and I want to thank you from the bottom of my heart for taking this path in your life to guide others towards the Truth and Freedom. You are spreading so much Light in this World! Love Yourself course has been the greatest blessing of my life, truly. I even called this year a turning point in my life. As strange as it may sound, I feel like newly born. Though I read many self-help books and did inner work (which all helped me to move forward), nothing really brought such a profound clarity, healing and inner peace that learning Inner Bonding does. I am forever grateful to have been guided to take this course. And I am beyond grateful to you for sharing the wisdom of your soul, Dr. Margaret. You can't even imagine, how much you have changed my life. Many, many thanks. —Jurgita C.
"Being shown the way to living in love is all we want at our deepest level and the gift of your course leads us there. I have been seeking for someone to show me a clear path to wholeness my entire life. Thank you." ~Markjd
"Inner Bonding should be required for all couples, and I'm certain it can save marriages. The Love Yourself course does what counseling often fails to do--and that is to arm each person with the tools they need to feel whole all by themselves first. Even after years of personal-growth work, I found so much to learn. Thank you." ~Jessica Stone
"This is a fabulous class! In my 30 year career as a therapist who's done many trainings, and many years in my own therapy, this is the first class I've done that actually teaches a method for the process of loving oneself. The course incorporates the most current somatic and neurobiology material. I'm so happy I followed my guidance to take this course. It's been transformative, and I can now continue to work with the process on my own."—Andrea
"This course was revolutionary for me. After years of self help books, self help courses, therapy, searching, meditating, pilgrimage, you name it…..FINALLY I found Inner Bonding as a method to come home to me in a powerful and authentic loving way." ~Maree
Stop Self-Abandoning and Take the Most Important Loving Action You'll Ever Take On Your Behalf
Maybe you recently learned about the process of Inner Bonding, or have been using it for a while.
Maybe you're still not experiencing the peace and joy you want.
There's still healing you know you need to do.
A nagging pull to go deeper within, to listen deeply to what your feelings are telling you about your life, to be more attentive and loving to what you really need.
There's an inner voice that's telling you to listen closely. There's something you're not hearing and seeing. There's something you're not doing.
You're not loving yourself.
This is the voice of your Inner Child.
The voice of your mind, however, may be telling you all the ways that you CAN'T love yourself.
That you're not worth it. You're too broken.
You can't commit to this process, can't do it consistently, or can't spend the time to learn to do it effectively.
These excuses come from the Wounded Self. They are ways you're abandoning yourself.
Our wounded self doesn't like taking responsibility for difficult emotions. It is habituated to want to control and blame. It's the only coping skill most of us have; it's a habit that developed in childhood and has remained ingrained in us ever since.
But it IS possible to break that habit and be free of the cycle of control, blame, anxiety, guilt, depression, or anger.
It's possible with Inner Bonding.
Once you master the process of Inner Bonding, you will know what to do to experience the power of unwavering self love.
You will be free of the limiting, critical voice that tells you that you'll never feel at peace.
You'll feel lighter, happier, and less conflicted. It's not easy, but it is easy to learn, and with the training, practice, and loving support you'll get from this program, you'll be able to experience ease and joy like never before in your life.
It always works when you do it.
Blessings,
Dr. Margaret Paul