Passionate Purpose, Vibrant Health
Finally Discover Your True
Calling And The Health To Pursue It!
PASSIONATE PURPOSE, VIBRANT HEALTH
Uncover the blueprint for what you came here to do – for what has heart and meaning for you. Enhance your creativity, unblock from resistance and procrastination, and create a joyful, vibrantly healthy and fulfilling life with my 30-Day Inner Bonding Program
Have you gone from job to job, struggling to find your passion, your purpose, your true calling – what you came to this planet to offer?
Have you read books on finding your passionate purpose, but are still in the dark about what would really bring you joy?
Do you feel clueless about who you really are and why you can to this planet?
Has the fear of failure stopped you in your tracks? Are you too insecure to do what you really want to do?
Are you fearful of playing big? Does the idea of fully manifesting the gifts you've been given scare you so much that you don't even know what these gifts are?
Have you lacked the motivated to make the changes you need to make to pursue your dreams? Or you don't have a clue what those dreams might be?
Do you feel blocked in your creativity and can't find the key to unlock it, or blocked in being all you know you can be?
Does resistance and procrastination stop you every time from doing what your heart wants to do, or from even finding out what your heart wants to do?
Has low energy, fatigue, or illness stopped you from doing what your heart desires?
Have you tried different things to rekindle your energy but can't seem to find the key to the vibrant health you need to pursue your dreams?
Do you eat well yet still struggle with having the energy to do what you want?
When You Know How to Heal The False Beliefs That Are Limiting You, You Free Yourself to Be All You Can Be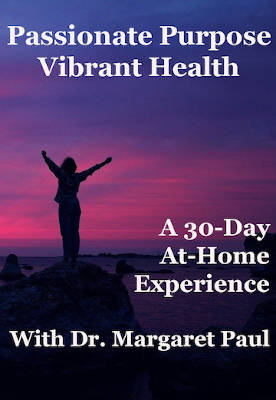 I can tell you with 100% certainty that you don't need to stay stuck and in the dark about what would bring you joy to do.
It's possible to find your passion, to move beyond resistance and procrastination, and to release your creative spark.
It's possible to gain more health and vitality to pursue your passionate purpose, no matter your age.
Of course, the Inner Bonding process is a part of this, since it's a part of all my courses, and this will help you to start your Inner Bonding practice or deepen your ongoing practice.
As Those Of You Already Practicing Inner Bonding Know, It's The Most Transformational Tool For Discovering Who You Are And Manifesting Your Gifts On The Planet
For many years, I've been helping people discover their true self, their true worth, their higher self, and their true calling.
As O.L. one of our past course participants said, "This passionate purpose course has been really life changing....I feel like myself a lot more and I have rediscovered my passionate self again and lots of purpose in life in many different ways."
This course works because it allows you to move beyond your false beliefs that have been stopping you all this time.
It works because it enables you to feel worthy of being big and offering your unique gifts, even if you've always felt "less-than."
It works because it offers you a clear path to discovering what would bring you joy.
Passionate Purpose, Vibrant Health: 30-Day Home Study Experience To Discover Your Calling And Create The Health To Pursue It
It is a step-by-step, practical, at-home, intensive training program that takes as little as 15-20 minutes a day and puts you on the path of discovering what your gifts are, what would bring you joy to do, and how to have the energy to do it.
You're going to discover how to access the Divine Blueprint for your passionate purpose on the planet. You're going to learn how to create vibrant health and high energy, and how to access your natural creativity.
People learn in different ways. Some people learn by seeing, some by hearing, and some by reading, and some in all of these ways. You will have an opportunity to learn in all of these ways in this course:
What is included in this course:
You'll receive:
30 Days of Training: Each day, for 30 days, you'll receive an email with a learning module from me that contains that day's training.



Even though this is a 30-day program, you can revisit each module as often as you like or skip a day or two (and catch up later). It is self-guided and you are learning at your own pace.



Daily Videos: Each day you'll also receive a 2-7 minute video I recorded for this program that will support you in your healing process.

Daily Action Steps: You'll receive daily action steps to help you incorporate what you're learning into everyday life, so you can stay engaged in your journey.

If You Follow This Program, In 30 Days, Your Life Will Change
One month from now, you will:
Have Discovered Your Passionate Purpose Or Be Will On The Path Of Discovering The Gifts You've Been Given To Share With Others
You will no longer need to go from job to job to find what brings you joy.
Move Beyond The Fear of Failure
Failure will become a learning tool rather than something to be avoided.
Heal The Fears of Playing Big and Fully Manifesting Your Gifts
Your ego wounded self will no longer stop you from doing what you came here to do.
Be Able To Easily Tap In to Your Creativity
Discover your innate creativity and be able to tap into it at-will.
Break Free From Resistance And Procrastination
Break Free From Resistance And Procrastination
Discover What Is Creating A Lack Of Motivation Or Low Energy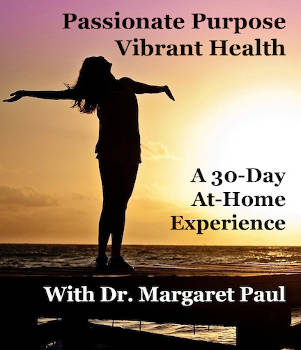 You will understand what you need to do to create the vibrant health you need to go for it!
Let Go Of Believing That You Are Not Worthy To Do What You Really Want To Do
You will move beyond, "I can't…" "I'm not good enough to …" "Who am I to…"
As you discover your sense of purpose and your vitality, your ENTIRE LIFE will blossom and expand.s come up. You'll know that you, and you alone, are responsible for your emotional wellbeing, a Truth that will empower you and set you free.

You'll be able to move ahead in joyfully manifesting your true calling.

You'll no longer be stuck in boredom, wondering what your life is all about, or wondering if this is all there is.

Our Guarantee: We will refund the cost of the course minus the cost of PayPal if you cancel within one week after the start of the course.
Program Testimonials
"I highly recommend this course and feel like if I had taken it back in high school or even college, imagine where I might be in my personal journey now, and my health would be soaring! :)....One of the best things for me about the course was how I had access to you daily for 30 days; I felt that you were really there to guide us through this process and it was such a support!" -Yiching
"The other IB courses I've done have been amazing & created so much change but this one for me is another level - it's just phenomenal. Thank you for the wonderful experience. Rather than just having the knowledge of IB it's now becoming integrated on a daily basis & the few things I've been stuck on for years are gradually becoming unstuck - so I look forward to continuing the journey." -Sarah
"I wanted to thank you and tell you how much I got out of taking the Inner Bonding Passionate Purpose, Vibrant Health Course. I found that the manner in which you explained the subject matter made it easy to understand, relate to and integrate into my overall awareness. In particular your approach to the wounded child and functional adult resonates loudly and helped me to recognize patterns, limiting beliefs and see a path forward in continuing to work through the ways in which I am affected. I found this course so useful that I immediately purchased the entire package of Inner Binding course offerings and have already begun in he Loving Yourself course." -David
"Passionate Purpose' gave me the crucial realizations about the blocks preventing me from living a purposeful life. It helped me to remember myself, to find the way home where my love for life and my long lost motivation was buried. Having lost my true purpose decades ago, I used to be like a leaf floating in space, dependent on the happenings around me. Thanks to this course, not only I know and feel now that I am here for a reason, but also I am filled with deep gratitude and creative fire to manifest my purpose. I absolutely loved it." -Anikó
"I have taken a number of Inner bonding courses and was amazed and delighted with the Passionate Purpose Vibrant Health program. It is rich with new information that one will not easily access anywhere else. Dr. Paul touches on topics that have one delve deep and as a result enhance ones growth. I would highly recommend this course it's a real gem, and I would definitely consider taking it again later on down the road it's that special." -Karen J.
"The changes that I have experienced in myself are profound....Before doing the Passionate Purpose course I was all over the place. I was looking to work for myself in several different areas, but wasn't sure what I should be focused on, as I had no idea what I'm really here to do. Through this powerful process, which is so well supported by Dr. Margaret, I now know what my purpose is on this planet, who I am, who I've always been." -Jane Forkert
"I loved both of the courses I have taken - Love Yourself and Passionate Purpose. The daily articles were always inspiring and motivating. I miss them. Thank you so much for your effort. It gives me hope." -Joy
"I've taken 2 other courses and I learned so much. This 3rd course was like a completion: what is my blueprint, what bring me joy in life....My gift seems to be with children and Margaret's feedback was very helpful. I highly recommend these courses for their clarity, their deep and clever explanations." -Carole Blunier
"This has been an amazing course, amazing overall. There is ALOT to absorb and integrate. Loved, loved, loved this." -Courtney Brubaker
"I have felt there was something more I wanted to give, to serve, something had been percolating for a long time, but I didn't know what it was. As I did the course and continued to be in the moment and to love myself the best I can in each moment...this past week, while sitting for meditation, it came to me in my heart area...I knew finally that I had come home. All the pieces of myself came together and I felt tremendous peace." -Laura Weinberg
"I found this course enlightening, like all your online courses (I took all of them starting last September). They have been life - changing, and I started to feel really better after years of struggling with different therapies and self-help books. This last one in particular was very meaningful, because both topics, passions and health, are crucial at this point of my life." -F.Z.
"I am so thankful for this course and our time together. I notice much of what I have asked about are the things that have been blocks to my passionate purpose. To be able to speak of these things has been incredible medicine and healing. I find I am healing like multiple chords in a song all being played simultaneously." -Lotusyesha
Stop Feeling Like A Failure and Take this Important Loving Action For Yourself
Maybe you've thought that it's too late to finally pursue your passionate purpose and achieve excellent health, but the truth is it's never too late.
Perhaps you've been stuck in a boring job for years – now is the time to get unstuck!
It's time to discover the crucial understanding about the blocks preventing you from living your purposeful life.
There's still healing you know you need to do to fully remember yourself and find your way home to your love for your passionate, purposeful life.
Perhaps you experience a nagging pull to go deeper within, to listen deeply to what your feelings are telling you about what would truly bring you joy
There's an inner voice that's telling you to listen closely. There's something you're not hearing and seeing. There's something you're not doing.
You're not loving and valuing yourself enough to unearth the blueprint of what you came here to offer the planet. You know you are here for a reason and now it's time to discover it.
It's time to get the clarity you need.
The voice of your mind might be telling you all the ways that you CAN'T discover your true calling.
It's too late. You're not worth it. You can't follow through. You don't have time. Other things are more important.
These false beliefs come from the Wounded Self. They are the ways you are stopping yourself from being all you can be.
Our wounded self just wants to be safe by keeping the status quo. It believes that doing what brings you joy will result in pain and failure.
But the wounded self knows nothing about truth because it has no access to truth. It's programmed with many lies that are holding you back.
But it IS possible to HEAL THESE LIMITING BELIEFS and be free to discover and manifest your dreams.
Others have done it with this course and so can you.
Once you understand how and why you've been limiting yourself, you can break free to do what is truly loving to you to do.
Instead of feeling stuck and bored, you'll feel excited about your life.
Explore More Inner Bonding

It's a challenge to take responsibility for our own feelings when we are alone, and even more of a challenge when we are with others. Today, notice the various ways you make others responsible for your feelings - not speaking up, saying yes when you mean no, blaming, feeling hurt, waiting, people-pleasing, getting angry, withdrawing, numbing out, punishing, and so on. Just notice without judgment.
By

Dr. Margaret Paul