Daily Inspiration
The avoidance of loneliness, heartbreak and helplessness over others and outcomes is often at the root of controlling, compliant, resistant or addictive behavior. It is helpful to learn to name the feeling we are trying to avoid. When we name it, we can allow it, acknowledge it, embrace it, bring love and compassion to it, and then release it to Spirit. Denying it keeps us stuck. Naming it allows us to manage it, release it and take loving action in our own behalf. By Dr. Margaret Paul

"I loved it! I always really love the video and audio visualizations and getting an email everyday was helpful in focusing. The forum was great - and I always like the conference calls."
Val Dudley
"Opening - Giving language to inner experience - very helpful in the process of sorting.
Helping me connect to truth of my inner life.
Helping me learn to take care of myself.
Helping me to feel joyful.
I loved all of the work - witnessing Margaret work with people…Very loving experience…Very positive role modeling to my own inner dialogue." Kripalu Workshop, Lenox, MA, 10/09
Claudia Kenny


'I came into this workshop knowing only the information my Aunt fit into a 30 minute explanation before we came. Without having any background knowledge, I was able to gain a good grasp of the 6-step process and was able to truly experience more than I ever thought would be possible. Even if I were not to study this concept any further in the future, I feel like I have the tools to lead a more fulfilling life and love for myself because of this workshop.' Los Angeles Workshop, 1/09
Alexandra Steele


"This workshop was exactly what I needed. I trusted my Inner Guidance, which led me here. Through the workshop I learned that my loneliness is based in the truth that I wasn't heard or loved as a child. My loving adult now is open to loving my inner child/wounded self. Although I still desire to be in a loving partnership with a soul mate, I now know I don't need that soul mate to be loved - I truly know now that I am loved by myself and by God." Kripalu Workshop, Lenox, MA, 2009

Susan


"Wonderful, incredible. Two major epiphanies; one was that my inner child requested a need for bonding from me, hence I now really get the workshop title "Inner Bonding". Two, was that the cherishing I have been feeling, I've missed all my life from my family, I can give to me. Thank you." Kripalu Workshop - Lenox, MA - 5/2001
Jennifer Walden


"I took this course next with my former partner. Here I learned about relationship systems, and the fears and controls that we unconsciously bring into our relationships. I found a new perspective on the codependent pattern that I had created in all my relationships and learned that it was based in abandoning myself which led me to protect and control my partner in an effort to get the love I was not bringing to myself. I learned about a unique approach to conflict resolution that helped me understand how to lovingly disengage so that I could attend to my own feelings without blaming and shaming my partner. Without the tools and knowledge from this course, I would not have been able to handle the grief, helplessness, and loneliness of my breakup with the peace that I feel, nor would I have been able to access the compassion and insight I now have into my inner child's anger at myself that I have projected into my partner relationships."
Cheryl Gibson
Founders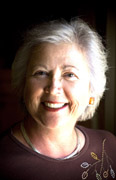 Get to know Dr. Erika Chopich, one of the co-creators of the Inner Bonding process.
Erika Chopich, Ph.D.
CO-CREATOR OF INNER BONDING
Dr. Chopich holds a Ph.D. in psychology, is a best-selling author, and an ordained Chaplain. She has worked extensively with the homeless population around the country. Erika has a medical background and before practicing as a psychotherapist, she was an administrator for the Los Angeles Free Clinic. In addition to working with individuals, groups, and business mediation, Erika is an accomplished speaker and seminar leader. She has appeared on many radio and TV shows, including the Oprah show. She is co-author of Healing Your Aloneness and the Healing Your Aloneness Workbook, which have been translated into seven languages and are bestsellers in Germany.

Erika currently resides in Durango, Colorado. She is an accomplished pilot and an experienced chef. She continually offers her insight, creativity, quick-wit, humor and playfulness to the ever-evolving process of Inner Bonding. In addition, her unique ability to see and speak with Teachers supports the Inner Bonding process with a constant source of new information.

Erika writes and publishes her blog from a deep appreciation of nature and of life. She has the ability to observe, apply and to teach the Inner Bonding process in every, day-to-day, situation. Her observations and her humor have gathered a large following.

Erika is passionate about her horses and spends much of her free time training and riding them. She also enjoys photography and paints in pastels. Her two dogs, Merlin and Frodo are her constant companions.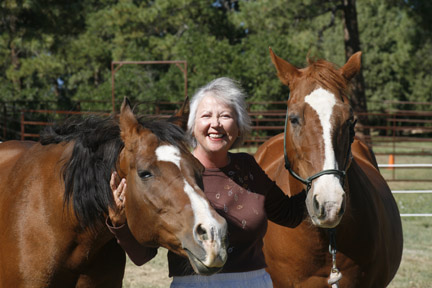 ---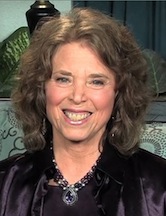 Get to know Dr. Margaret Paul, one of the co-creators of the Inner Bonding process.
Margaret Paul, Ph.D.
CO-CREATOR OF INNER BONDING
Dr. Paul is the author/co-author of several best-selling books, including Do I Have To Give Up Me to Be Loved By You?, Inner Bonding, Healing Your Aloneness, The Healing Your Aloneness Workbook, Do I Have To Give Up Me to Be Loved By My Kids?, and Do I Have To Give Up Me To Be Loved By God? Dr. Paul's books have been distributed around the world and have been translated into eleven languages.
Margaret holds a Ph.D. in psychology and is a relationship expert, noted public speaker, workshop leader, educator, chaplain, consultant and artist. She has appeared on many radio and TV shows, including the Oprah show. She has successfully worked with thousands of individuals, couples and business relationships and taught classes and seminars since 1967.
Margaret continues to work with individuals and couples throughout the world -- mostly on the phone. She is able to access spiritual Guidance during her sessions, which enables her to work with people wherever they are in the world. Her current passion is working on and developing content for this Website, as well as distributing SelfQuest®, the software program that teaches Inner Bonding® and is donated to prisons and schools, as well as sold to the general public.
Margaret is passionate about helping people rapidly heal the root cause of their pain and learn the path to joy and loving relationships.
In her spare time, Margaret loves to paint, make pottery, take photos, watch birds, read, ride horses, and spend time with her grandchildren.