Daily Inspiration
Do you think more about what you have or about what you don't have? Notice the warmth and peace you feel when you are in gratitude for what you have. Notice the anxiety and sadness you feel when you think about what you don't have. Today, consciously choose gratitude throughout the day for every blessing that comes your way. By Dr. Margaret Paul

"I am on week 7 of the Personal Intimate Relationship Toolbox. I have found it to be extremely life changing but have found all of the relationships in my life changed. I have a lot more appreciation and love for myself and thus for others in my life! Kudos to you for a fabulous program and thank you!!!
Barb
We so wanted to blame each other for our ills and unhappiness - it was so much easier!! Since we have been doing Inner Bonding, we realized that whatever made us unhappy was ourselves, and that truly taking responsibility for our own lives in every way was the key to a successful relationship. We have become much closer emotionally, sexually, and in every other way. We have acknowledged to one another that we are happier now than we were in those first exciting months of dating.
Art and Judy Ross
"I love the study and am learning so much and only wish I had learned it earlier. Maybe I wouldn't be going through being divorced by my husband of 32 years. I so wish they taught about relationships all through school."
Sharon Kelly
"When I first began inner bonding I weighed 244 pounds. This was thirty or forty pounds too much for me, as I am six feet tall. As I read the articles and talked to two Inner Bonding® facilitators, I began to realize that my problem was more complicated than overeating. My facilitator asked me "what was I doing just before I started eating"? Then she asked "what were you feeling, at that moment?" With some difficulty I realized that whenever I was feeling uncomfortable or fearful, I would stick something in my mouth. I now weigh 220 pounds….I also have different self soothing strategies than I used to have."
Charlie Peck
Inner Bonding has provided us with the tools to take responsibility for our own feelings, thoughts and behaviors instead of blaming each other for causing our feelings.
We both have learned how to have a deeper relationship with God which provides us with the strength to take loving care of ourselves. This allows us to be filled with love to share with one another instead of trying to get love from one another. We no longer depend on the other person to make us happy, as we now realize we create our own happiness.
Our communication has greatly improved because we have learned to choose the intent to learn when in conflict and not engage in unproductive conversation. For example, we have reduced blaming, explaining, and trying to get the other person to see our point of view. Inner Bonding has helped us to be more present with ourselves, which in turn, allows us to be more present in the relationship.
Inner Bonding has helped us to find a healthy balance between caring for ourselves and caring for each other. We are more aware of when we are trying to control in the relationship and stop and realize our only control is over ourselves. We have learned the importance of choosing to notice the positives in each other and our relationship.
Inner Bonding has helped us to seek to understand each other, agree to disagree, and discuss hot topics when both of us are open. This preserves our energy and reduces unnecessary frustration in our relationship.
We are so grateful that we have the Inner Bonding process in our lives. Inner Bonding has helped us to have more love, freedom and joy in all of our relationships.
Kelly and Jeff James
"By learning to take personal responsibility for our own "stuff," we are able to enjoy the true essence of one another. Our love continues to retain the passion, intimacy, and playfulness that we shared when we first met."
Jeff and Elaine
Home Study Courses
Dr. Margaret Paul's "Intimate Relationship Toolbox"
Are you tired of feeling lonely and disconnected from your partner?
Are you tired of the negative circle of anger and withdrawal that you get into?
Are you ready to heal your relationship, or heal yourself so that you can find the relationship of your dreams?
Click here to learn about this 12 week online course and receive the first two weeks FREE!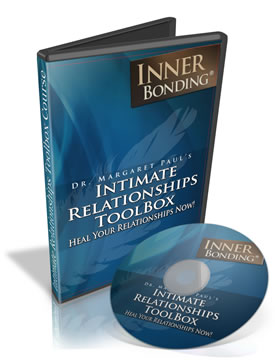 ---
Dr. Margaret Paul's "Permanent Weight Loss Course"
Are you stuck in your weight loss?
Are you still gaining and losing weight?
Are you ready to heal the root cause of food addiction and attain permanent weight loss?
Click here to learn about this 12 week online course and receive the first two weeks FREE!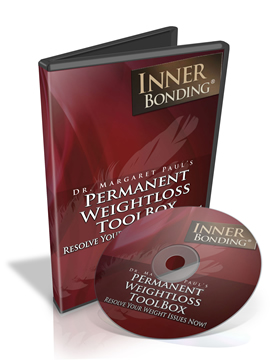 ---
Sheryl Paul's "Birthing a Mother Course"
The Missing Link that will revolutionize the way you become a mother – even if you're not yet pregnant!

Why most books, forums, and classes only reinforce your anxiety and set you up for unrealistic expectations that lead to guilt and depression

The 3 Mental Shifts you need to make to prepare for motherhood

The 7 Essentials Steps that will calm your anxiety at any stage

Most women who are trying to conceive, pregnant, or new mothers believe that if they eat the right foods, read the right books, and take the right classes, they'll be able to manage their fertility or pregnancy anxiety, prevent postpartum depression, and be prepared to bond with their newborn.


I was one of these women, struggling either emotionally or physically at every stage of becoming a new mother. Although I had counseled thousands of women through transitions and had appeared several times as an expert on Oprah, nothing prepared me for the emotional and spiritual earthquake of my own transition.
Click here to learn more about this course:
---
Healing Your Aloneness: The Inner Bonding Workshop
These CDs are the complete 12-hour weekend Inner Bonding® workshop, which you can do on your own or with another person. A Workbook and the Introductory DVD are included. Includes lecture, discussion, experiential exercises, and demonstration sessions. This Workshop teaches you how to connect with a personal source of spiritual wisdom and love that you can always turn to for guidance towards your joy and highest good. You will learn how to heal the wounded parts of yourself, how to move beyond your false beliefs and into truth, and how to access your creative, loving and joyful essence.
Click here to purchase this complete 12-hour weekend Inner Bonding® workshop