Daily Inspiration
When your body becomes your temple and you treat each cell with loving kindness, you will begin to know that each living thing upon this planet is but a cell of the greater Oneness. When you experience this Oneness, you will treat each living thing and the planet itself with the same loving kindness as you treat each cell of your body.
By

Dr. Margaret Paul

Private Phone & Skype Sessions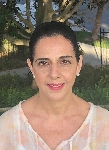 Grace Escaip
Phone & Skype sessions are available with Dr. Margaret Paul and other Inner Bonding® Facilitators.
Step Four of Inner Bonding
Dialogue with Your Higher Guidance

Ask your spiritual Guidance (whatever that is for you): What is the truth about the thoughts/false beliefs you may have uncovered in Step Three?
Ask: What is the loving behavior toward your Inner Child in this situation? What is in your highest good? What is kind to yourself?
Open and allow the answers to come through you in words, pictures, feelings, dreams, in talking with another, or in reading a book. The answers may not come immediately, but if you have a sincere desire to learn, they will come.

Move on to Step 5.