Daily Inspiration
Research indicates that happy people create happy relationships, not the other way around! If you believe you need a relationship to be happy, or the "right" relationship, you may stay stuck being unhappy. Unhappy people either don't get into relationships, or often create unhappy relationships. Put your energy into making yourself happy and then see what happens!
By

Dr. Margaret Paul

Private Phone & Skype Sessions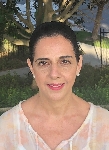 Grace Escaip
Phone & Skype sessions are available with Dr. Margaret Paul and other Inner Bonding® Facilitators.
Step One of Inner Bonding
Willingness to Feel Pain and Take Responsibility for Your Feelings

Move your focus out of your head and into the present moment, into your body, tuning into your feelings.
Breath into your feelings, taking some time to be with them - being with your Inner Child, which is your inner Guidance system.
Make a conscious decision that you WANT to take responsibility for your feelings.

Move on to Step 2.