Daily Inspiration
Your emotions are a great gift, letting you know when you are on track or off track in your thinking and behavior, or when you need to attend to what is happening with a person or situation. Today, practice learning what your painful emotions are telling you, rather than avoiding them with your various addictions.
By

Dr. Margaret Paul

Private Phone & Skype Sessions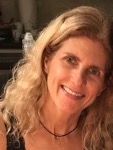 Sharon Appleby, B.A., Sociology
Phone & Skype sessions are available with Dr. Margaret Paul and other Inner Bonding® Facilitators.
Step Six of Inner Bonding
Evaluate Your Action

Check in to see if your pain, anger and shame are getting healed.
If not, go back through the steps until you discover the truth and actions that bring you peace, joy, and a deep sense of intrinsic worth.
In Step 6, you are looking for the deep inner fullness and sense of peace that comes from truth and loving action, not the temporary satiation that comes from addictions.

For a Six Step Guide, click on My Inner Bonding Process, which is under "Members: My Home" on the members menu.