Dr. Margaret Paul on Inner Bonding

Daily Inspiration
When you greet someone, are you welcoming, or do you wait for them to welcome you first? Is your intent to give or to get? Are you hoping others will make you feel safe? You can create your own sense of inner safety by loving yourself and sharing your love with others.
By

Dr. Margaret Paul

Private Phone & Skype Sessions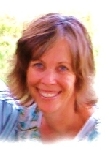 Karen Kral, M.A., LPC
Phone & Skype sessions are available with Dr. Margaret Paul and other Inner Bonding® Facilitators.