Daily Inspiration
What are the characteristics you generally notice in yourself and others? Do you often notice what is wrong or what is wonderful? Today, focus on noticing what is wonderful in yourself and others - and then notice how you feel toward yourself and others!
By

Dr. Margaret Paul

Private Phone & Skype Sessions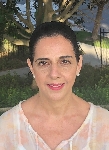 Grace Escaip
Phone & Skype sessions are available with Dr. Margaret Paul and other Inner Bonding® Facilitators.
Diet For Divine Connection Purchase
Are you shipping this item outside of the United States?
If so, please click yes and order via Amazon.