Finally! Studies Prove That Spanking Doesn't Work
By Margaret Paul, Ph.D.
April 01, 2012


---
Do you hit your children? If you want to raise healthy children, reading this article is a must.
---
"A new analysis concludes that spanking fails to alter kids' behavior in the long term. What it does instead is amp up their aggression." From "Why Spanking Doesn't Work," by Bonnie Rochman | @brochman | February 6, 2012
http://healthland.time.com/2012/02/06/why-spanking-doesnt-work/?hpt=hp_t3
What do we mean when we say that spanking doesn't work? Doesn't it stop children from doing whatever it is you don't want them to do?
"Want your kid to stop whatever dangerous/annoying/forbidden behavior he's doing right now? Spanking will probably work — for now.
"But be prepared for that same child to be more aggressive toward you and his siblings, his friends and his eventual spouse. Oh, and get ready for some other antisocial behaviors too.
"A new analysis of two decades of research on the long-term effects of physical punishment in children concludes that spanking doesn't work and can actually wreak havoc on kids' long-term development, according to an article published Monday in the Canadian Medical Association Journal."
I remember years ago, seeing a cartoon with a man spanking a small boy over his knee, saying, "I'll teach you not to hit people smaller than you." Crazymaking!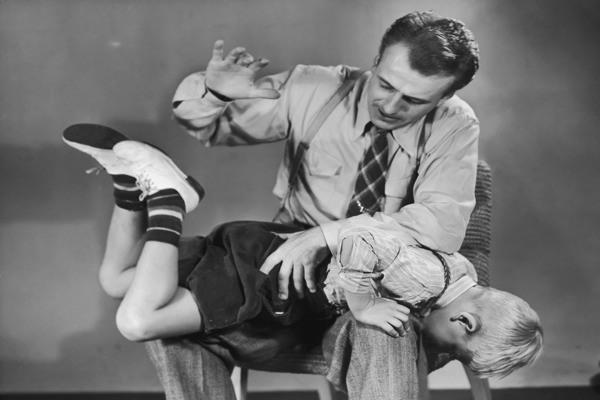 Since children learn the most from role modeling, it makes sense that hitting children creates aggressive behavior. But what about 'Spare the rod and spoil the child?' The sad thing is that the literal translation of 'rod' is not 'stick,' but a symbol of authority. The instruction in Proverbs 13:24, "Whoever spares the rod hates his son, but he who loves him is diligent to discipline him," means that if you love your child, you will instruct, teach and correct him or her.
"…let's take a look at how the word discipline is translated in Proverbs 13:24. It appears 50 times and 38 of those it's translated as instruction or correction. It's never translated as punish." From: http://gracethrufaith.com/selah/spare-the-rod-and-spoil-the-child/
Perhaps the more accurate translation of the Biblical passage is 'If you spare teaching the child, you will spoil the child.' Now that makes sense! And teaching the child mostly means being a loving role model of personal responsibility for your own feelings, behavior, honesty and integrity.
"We find children who are physically punished get more aggressive over time and those who are not physically punished get less aggressive over time," says Joan Durrant, the article's lead author and a child clinical psychologist and professor of family social sciences at the University of Manitoba."
"Children who are spanked may feel depressed and devalued, and their sense of self-worth can suffer. Harsh punishments can wind up backfiring because they can foster lying in children who are desperate to avoid being spanked. Later in life, physical punishment is linked to mental-health problems including depression, anxiety and drug and alcohol use. There's neuroimaging evidence that physical punishment may alter parts of the brain involved in performance on IQ tests and up the likelihood of substance abuse. And there's also early data that spanking could affect areas of the brain involved in emotion and stress regulation."
The sad thing is that "some research has found that up to 90% of parents say they use corporal punishment."
I found out in this article that 32 countries, including Sweden, much of Europe, Israel, Costa Rica, Tunisia and Kenya have a law prohibiting hitting children. I wish we would get on board in the U.S!
There is a deep underlying issue here that is beautifully addressed in "In Defense of Childhood: Protecting Kids' Inner Wildness," by Chris Mercogliano. The issue is between the false belief that children are born intrinsically bad and need to be tamed, and the knowing that children are born intrinsically filled with goodness and motivated to be all they can be. Given a safe, loving environment with excellent role modeling and mentoring, a child will learn and grow at an astounding speed.
I love the phrase 'inner wildness,' but obviously some parents fear their children's inner wildness. To me, this term means inner passion, aliveness, vitality and creativity. To scared parents, it means destructiveness. 45 years ago, when I had my first child, I did all I knew to preserve his inner wildness, but I didn't really understand how to do it. I knew not to hit or punish or judge, but I didn't understand the influence of school in suppressing inner wildness. Thankfully, my daughter understands this and is homeschooling my two little grandsons, raising them to be wild, wonderful, caring, creative, alive, vital, curious and so loving!

Attribution-NonCommercial-NoDerivs
CC BY-NC-ND

Send this article to a friend

Print this article

Bookmarked 0 time(s)
Comments

Daily Inspiration
Attend to the difference between love and approval. Approval comes and goes, while love is constant. We can manipulate approval by doing things "right" but love from others is always a free gift that is beyond our control. We convinced ourselves that we can have control over getting love, but are you sure this is true?
By Dr. Margaret Paul