Children, Education, and Inner Bonding
By Dr. Margaret Paul
December 31, 2006


---
Children learn Inner Bonding quite easily. This article is about helping children learn the Inner Bonding process at home and at school, which supports them in becoming personally responsible.
---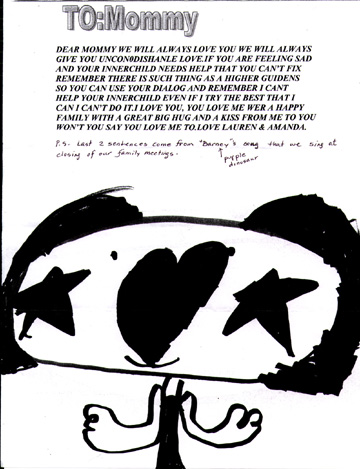 This letter and picture was created by 8 year old Lauren, who attends Via Pacifica, a private school in Manhattan Beach, CA. Inner Bonding is taught to all the children at this school.

People often ask if children can learn this process, and here is a wonderful example of a child really integrating it and being able to apply it in helping her to not take responsibility for her mother's feelings.

Children learn Inner Bonding quite easily. They are generally open to creative imagery and have an easy time connecting with their higher Guidance, whether it is in the form of an inner coach, a fairy godmother, an inner teacher, an inner mentor, or a guardian angel. The spiritual element need not be an issue in public schools - a child can connect with an inner coach, teacher or mentor without ever mentioning Spirit.

Even very young children can learn to self-nurture and define themselves through the eyes of their inner guidance. Big Jacob can learn to nurture and define little Jacob, even though big Jacob may be only five years old. Given a doll or stuffed animal and told that this represents the little feeling part of them, children can easily learn to dialogue with their feelings and turn to their inner guidance for help in seeing who they are and discovering what they need.

Many of my clients, as they learn Inner Bonding, find it easy to teach it to their own children. Children also learn easily through role-modeling when they see their parents practicing the process.

Our hope is that more and more teachers and parents will learn the process themselves and teach it to their children and students of all ages. Columbine would never have happened if those adolescents had been practicing Inner Bonding.

Attribution-NonCommercial-NoDerivs
CC BY-NC-ND

Send this article to a friend

Print this article

Bookmarked 1 time(s)
Comments

Daily Inspiration
What nurtures you? Do you feel nurtured by being out in nature? By doing something creative? By sitting quietly and listening to music or reading or watching a movie? By being with caring friends? By being physically active - hiking, playing a sport, or gardening? By meditating, journaling, practicing Inner Bonding? By playing fun games? By playing a musical instrument? Today, be sure to create balance in your life by nurturing yourself.
By Dr. Margaret Paul