Managing Anxiety and Panic Attacks
By Dr. Margaret Paul
December 31, 2006


---
Do you suffer from anxiety and panic attacks? Have you tried many things that have not worked? Discover how to heal an underlying cause.
---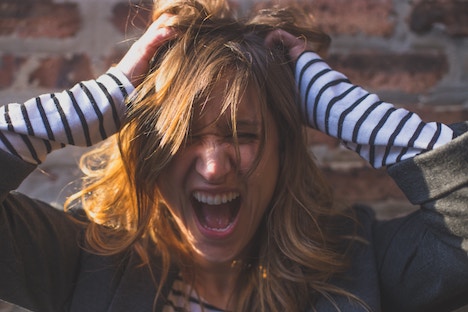 Your heart is pounding and you have palpitations and chest pains. You are sweating profusely, shaking uncontrollably, having trouble getting a breath, and you feel light-headed and unsteady. You have a lump in your throat and feel like you can't swallow, along with sensations of smothering, and you feel like you might throw up. Are you having a heart attack? Not likely, because you are only 27 years old. So what is happening to you?

The chances are you are having a panic attack.

What causes panic attacks? The physiological cause is that a small, almond-shaped organ in the limbic system of the brain, called the amygdala, gets activated and creates the extreme reaction in the body. But what triggers the amygdala?
What Triggers Panic Attacks...

Panic attacks are triggered by thoughts from the wounded self. The thoughts are about bad things that can happen: thoughts that create fear, and even thoughts about having a panic attack. Panic attacks are very frightening because it feels like you might die, even though people do not die from them. For some people, the more panic attacks they have, the more they are afraid of them, and the more they trigger them with their fear of them. It becomes a vicious circle.

Once anxiety or a panic attack is triggered, it is very difficult to stop it. The key is to stop it before it occurs, or stop it just as it is occurring. The most effective method I have found for this is EFT - the Emotional Freedom Technique.

EFT is a system of tapping on the end-points of acupuncture meridians while thinking the thoughts that trigger the feelings and feeling the feelings of the anxiety or panic. I suggest that anyone who has anxiety or panic learn this method. We teach EFT in the SelfQuest program, and you can learn it at www.eftuniverse.com/.

Once you have been able to lower your anxiety level with EFT, you then need to diligently practice Inner Bonding. Practicing Inner Bonding gives you the awareness of the lies from your wounded self that are causing the anxiety and panic, and develops your connection with the truth from your spiritual Guidance. The more you connect with your Guidance and operate from the truth, the less anxious you will feel. Anxiety and panic often come from the lies of the wounded self, while inner peace comes from being in truth.
Changing Your Thoughts...

The more you practice Inner Bonding and are able to stay connected with your Guidance throughout the day, the more you will be in charge of your thoughts. The practice of Inner Bonding gives you the ability to stop generating thoughts FROM your mind and instead allow the truth to come THROUGH your mind.

When you are generating thoughts from your mind, you are in your ego wounded self. When you are using your mind as a receiver and allowing the thoughts to come through your mind from your Guidance, you are a loving adult. The more you are able to be a loving adult, the less anxiety and panic you will experience.

EFT is a tool to help you lower your anxiety level so that you can practice Inner Bonding. But it is the consistent practice of Inner Bonding that eventually moves you out of your wounded self and into your loving adult - into the inner peace that comes from allowing your spiritual Guidance to be in charge of your thoughts and actions.
Join Dr. Margaret Paul for her 30-Day at-home Course: "Love Yourself: An Inner Bonding Experience to Heal Anxiety, Depression, Shame, Addictions and Relationships."
Join IBVillage to connect with others and receive compassionate help and support for learning to love yourself.
Photo by Dayne Topkin on Upsplash

Attribution-NonCommercial-NoDerivs
CC BY-NC-ND

Send this article to a friend

Print this article

Bookmarked 9 time(s)
Comments

Daily Inspiration
Notice your judgments towards others. Each time you notice one, notice how it makes you feel when you judge. Are you judging yourself in a similar way? Notice how that makes you feel. Ask your Guidance if any of your judgments are truth or lies. What is the truth?
By Dr. Margaret Paul