Finding Peace in the Midst of Stress
By Emily Agnew
July 09, 2013


---
Does stress just happen? Or is it in your power to choose your reaction to stressful situations? Inner Bonding facilitator Emily Agnew shares her encounter with high stress and the simple solution that may surprise you.
---
When I was little, my parents took me to church every Sunday. Not everything about church was fun for me. I loved singing but I'd almost faint every time we stood up to sing a hymn, not understanding at the time that my skinny growing body needed more than a small bowl of cereal to get through to Sunday brunch. But I always felt happy coming out of church, and it wasn't just the prospect of my mother's waffles with syrup and sausages, or the stirring organ music. It was something about the final blessing from The Book of Common Prayer:
The peace of God, which passes all understanding, keep your hearts and minds in the knowledge and love of God and of his son Jesus Christ. And the blessing of God Almighty the Father, Son, and Holy Ghost be with you and remain with you always, now and forever.
I worked intensely hard this past year, completing three major projects in addition to my usual work. Somewhere along the way, I lost my perspective and slipped into a state of chronic high stress and tension. I know lots of ways of centering and calming myself, but they weren't working. I'd feel a little better after exercising, meditating or doing some yoga, but not for long.
In the end, it took a complete break from work and a change of scene for me to calm down. Six days at our beloved family cottage, on a quiet lake in Canada, finally restored me to myself. My body began to let go, my mind slowed down, and I realized how much pressure I had been putting on myself. I asked myself, "Do I want to be happy? Or do I want to let life events stress me constantly?" I saw that this decision is entirely up to me. As this realization sank in, I heard the blessing over and over in my mind: "The peace of God, which passes all understanding, keep your hearts and minds in the knowledge and love of God…"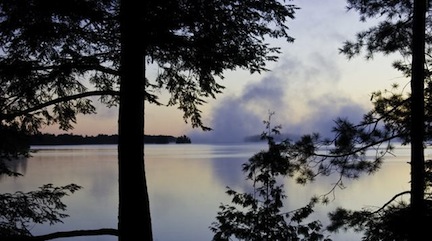 I understood for the first time the two meanings of "the knowledge and love of God." First, it means remembering that there is this energy I am calling God, and that it is there to be felt at any time. (The word "God" is not the important thing; you can call it God, Buddha, Allah, the Universe, the divine, Gaia, the infinite unknown…whatever speaks to you.) Second, it means keeping my heart and mind open to this endless source, letting the wisdom of the divine flow through in order to access the vast universal knowledge and loving source that is God. To know God, and to allow the limitless, universal knowledge that is God to flow through me—this was the way to peace.
We all have to field stressful life events that are out of our control: illness, injury, loss of a job or financial worries, suffering or troubles of friends or family members, or worse yet, poverty, violence, war or starvation. We may also get stressed by useful, "good" projects we have chosen to take on, as I did. I chose to work on changing the focus of my business, to start upgrading my website, and to take over managing a complex transfer of family property.
But having slowed down during those six days away, I realized that I know people who seem to field both these kinds of these life stressors with striking calm and equanimity. I realized that I got stressed because I allowed myself to get stressed.
This sounds deceptively simple. But it is the key to happiness. So let me say it again: I got stressed because I allowed myself to get stressed. I will unpack this further to make the underlying truths as clear as I can.
I allowed myself to get stressed when I tried to live and strive by my own tiny personal knowledge. I told myself what had to happen, and I tried hard to make that happen. The harder I tried to control all sorts of outcomes, the more stressed I got. The more stressed I got, the less peace I had, and the less access I had to "the knowledge and love of God." The less I had access to that knowledge, the harder I tried to control it all. I even tried to control my stress level with yoga and meditation.
I was in a vicious cycle caused by my own striving. And this stressful striving included virtually everything I was doing, including visualizing, "positive thinking" (or as a new age guru might put it, trying not to "indulge in negativity"), planning, being coached, brainstorming, studying, researching, writing, praying, meditating, and yoga. It included all that because I was doing all that in an attempt to control the outcome of my efforts.
Being up at our lake place took me away from that mindset long enough to realize how much I was suffering. I realized that for me, nothing is worth being so terribly stressed. No outcome, no accomplishment, no result is worth that kind of suffering. I resolved that when I returned home, my priority would be to remember this. I committed myself to take whatever steps I needed to take to choose to be at peace in myself.
There is a prayer implied when you make this kind of strong commitment: "Help me see how I'm stressing myself…help me choose differently…" The answer to this unconscious prayer of mine came in the form of these words as I sat in meditation: "The peace of God, which passes all understanding, keep your hearts and minds in the knowledge and love of God..."
I realized that when I'm at peace in myself, a positive cycle is set in motion. The "knowledge and love of God" expresses itself in an inner knowing. It sometimes defies external logic, yet always takes me in a direction of more integrity and more peace. Experiencing this peace both motivates me to remain in the knowledge and love of God, and enables me to do that. It creates a self-sustaining positive cycle.
This "peace of God" is something I can physically feel, in my body. I felt it up at the lake, and I feel it now. I can feel that exhausted, striving part of me, exhaling, leaning back, and letting go, as the next part of the blessing sinks in, "...keep your hearts and minds in the knowledge and love of God…"
What exactly does "the knowledge and love of God" mean? To me, it means the bigger universal knowing: the field of universal truth as it intersects with my own individual life and situation. This kind of knowing is beyond my own limited understanding, beyond striving or controlling, yet it motivates me to take concrete actions that bring me more into harmony with myself and my life. It motivates me to start my day in quiet contemplation, remembering to invite that peace in myself; to notice when I get stressed, and to stop to recall myself; to refraining from making a decision or taking an action from a stressed, controlling energy; and generally to view my life an ongoing experiment in how to stay connected to my spiritual essence through the activities of my daily life. Guided by the flow of this knowledge, I can do things all day—lots of things, even—without the terrible stress that comes from striving.
This doesn't mean I'll never feel stressed. It means that if I do, I can accept I am stressed. Because I am not trying frantically to control my stress, I can stay open to "the knowledge and love of God." I can take whatever right action is needed.
These words come from a Christian context, but they are universal in their meaning and power. They are not abstract or theoretical, but utterly practical and relevant to the moment-by-moment actions of running my business, parenting my daughter, managing the household, and sustaining an intimate relationship with my partner.
What speaks to you in this way? It could be a poem or a prayer, a photograph, a piece of art or music, contact with a beloved pet, or time in your garden. The important thing is to have an easy way to remind you of your spiritual connection, why you here, and what really matters. By remembering that, you will open again to that greater knowledge and love, and this will motivate your actions as you go through the day.
When I say "remember why you are really here," I don't mean that only the spiritual is "real", and that the daily details of your life are somehow unimportant. On the contrary, the more you commit yourself to remembering why you are here, the more sacred you will find the ordinary events and interactions of your life. And that is why we are here: to evolve spiritually, and to serve, [by living each of our unique lives] as fully and lovingly as we can.
© Emily Agnew 2013
Feeling confused by what you're feeling inside, stuck trying to dialogue, or discouraged because you can't hear your inner guidance? Visit Emily at www.sustainablysensitive.com to learn how her sessions and classes can help you make sense of your inner process, offer compassionate company to whatever is coming up for you, and connect to your higher knowing in a way you can trust and count on.

Attribution-NonCommercial-NoDerivs
CC BY-NC-ND

Send this article to a friend

Print this article

Bookmarked 5 time(s)
Comments

Daily Inspiration
True wisdom does not lie in gifted speech, but in the ability to feel what you hear and hear what you feel.
By Dr. Erika Chopich