Inner Bonding® - The Power to Heal Yourself


"Inner Bonding has helped me to evolve in my courage to love..."
Alanis Morissette
"The essential tools for achieving inner peace, joy and fulfillment."
John Gray, "Men Are from Mars...


"What if there was a single process that
could solve all the issues with which
we struggle?" Lindsay Wagner

"It is one thing to behold the wisdom and
quite another to be able to use it. A
treasure indeed." Neale Donald Walsch



"...teaches the value of stepping into a new spiritual paradigm - into love and trust of self, others, and God"Jack Canfield
Have you tried everything to feel good about yourself but you still experience feelings of unworthiness and inadequacy?
Inner Bonding teaches you how to self-heal anxiety, depression, addictions, and failed relationships by addressing the pervasive pattern of self-abandonment/shame that is the underlying cause of these issues.
Are you tired of failed relationships and jobs that don't fulfill your dreams, or are problems with spouses, partners, friends, family or co-workers causing you stress?
Inner Bonding shows you how to love yourself, even through challenging times, so you can truly experience love with those closest to you.
Do you turn to various addictions because you don't know any other way of managing your painful feelings?
Inner Bonding enables you to lovingly manage all painful feelings without turning to addictions.
Inner Bonding self-heals the root cause: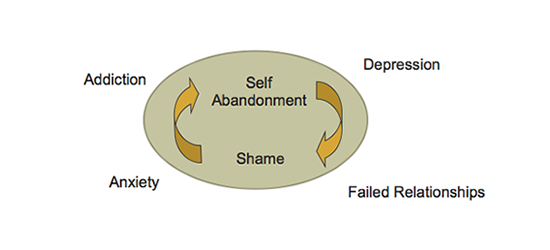 When you heal the core shame of believing that you are not good enough, and create the vital connections which bring joy to life, you also heal self-abandonment. When you heal self-abandonment, you also heal problems with spouses, partners, friends, kids, family, co-workers, aloneness, emptiness, anxiety, depression and addictions.
Self-abandonment, which comes from core shame, is the underlying cause of all these problems. Self-abandonment is the cause of disconnection from self, loved ones and Spirit. The practice of Inner Bonding develops the deep self-worth that creates inner peace, joy and loving relationships.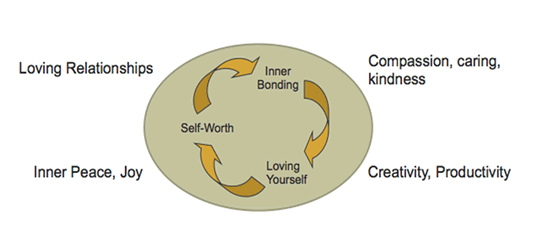 Practicing Inner Bonding:
Heals the deepest fears and false beliefs that keep otherwise highly functioning individuals trapped in self-destructive patterns.
Enables individuals to make decisions that are TRULY RIGHT for them.
Frees up suppressed energy that is wasted on the destructive intent to control feelings, other people and outcomes, unleashing joy, passion and creativity.
Creates a connection with a personal source of higher love and wisdom.


Daily Inspiration
If you believe that your painful feelings such as fear, anger, anxiety, depression, hurt, guilt, shame, aloneness, emptiness or stress are coming from external sources - such as people, the past or events - then you are stuck being a victim. This week, begin to notice that these feelings may be coming from your own current thoughts, beliefs and actions. By Dr. Margaret Paul


Alanis Morissette
Alanis shares the positive impact of Inner Bonding on her life in these two music videos.

Inner Bonding Related News

Inner Bonding Events
All Inner Bonding Events
Private Phone Sessions


Susan Settle, M.A., E.T.

Phone sessions are available with Dr. Margaret Paul and other Inner Bonding® Facilitators.
Free Phone Seminar

Join On-Line Seminar
Our next free webinar-teleseminar is
May 29, at 6:15 PM
All Times in Pacific Time