The Difference Between Aloneness and Loneliness
By Dr. Margaret Paul
May 20, 2013


---
Aloneness and loneliness are actually very different, yet people often confuse them.
---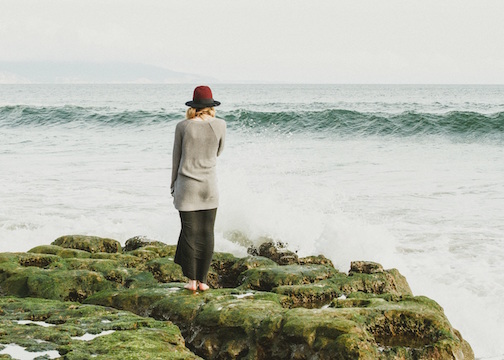 I find in my work with clients that they often confuse aloneness with loneliness. While these feelings might seem similar, there is actually a very big difference between them.
Aloneness
Aloneness is the feeling of being alone and empty inside, as well as alone in the universe. It is the feeling that results when our wounded self is in charge and we are rejecting and abandoning ourselves, and disconnecting from our spiritual source of love and comfort.
Feelings of aloneness and emptiness are the way your inner child lets you know that you are not loving yourself. The empty feeling of aloneness indicates there is a lack of love within, stemming from a disconnection with your spiritual Guidance. There is no loving adult present to bring in the love, compassion and comfort of Spirit, so you feel alone in the universe. Instead of bringing in love, you are likely ignoring your feelings, judging yourself, trying to fill the emptiness with various substance and process addictions – food, alcohol, drugs, TV, spending, sex and/or pulling on someone else to love you and fill you up.
When you feel that inner aloneness and emptiness, what do you believe is causing it? Many people believe it is being caused by someone else not loving them. They believe that if only someone loved them in exactly the way they want to be loved, the aloneness and emptiness will go a way. And it might go away for a short time, but then what happens when the person isn't there? Just like with food – it may take away the empty feeling for awhile, but then it comes right back again. No matter how many things you buy or how much food you eat or drugs you take or alcohol you drink, or sex you have or attention you get, it never fills you for long. You need more and more of it to momentarily take away the aloneness and emptiness of your own self-abandonment.
Aloneness, then, is a feeling YOU cause by rejecting and abandoning yourself, and the more you turn to various ways of avoiding your feelings, the more alone and empty you feel.
Loneliness
Loneliness is not an empty feeling. Loneliness is what you feel when you are open and connected with yourself, and you want to connect with your partner but your partner is closed. Loneliness is what you feel when you are taking loving care of yourself and bringing love to yourself, and there is no one around with whom to share your love.
Loneliness is what you feel when you are open hearted and the person you are with is being unloving to you. This lonely feeling is informing you that the other person is closed to you.
When you are taking loving care of yourself, loneliness is not a feeling that you cause. It is a painful existential feeling of life that we all need to learn to compassionately manage. However, when you are abandoning yourself, you may feel both alone and lonely, because you cannot connect with another when you are disconnected from yourself. So you do cause your own loneliness when you are closed to loving yourself. This state of feeling alone and lonely is a state of despair, and will not go away until you shift your intent to loving yourself rather than abandoning yourself.
Clients often tell me they feel lonely, but when I do an Inner Bonding process with them, it becomes apparent that what they are feeling is alone and empty, due to their own self-abandonment.
When you connect with yourself and the love and comfort of your Guidance, you do not feel alone or empty. And connecting with your Guidance is what enables you to lovingly manage the everyday feelings of loneliness that are an inevitable part of life.
Join Dr. Margaret Paul for her 30-Day at-home Course: "Love Yourself: An Inner Bonding Experience to Heal Anxiety, Depression, Shame, Addictions and Relationships."
Join IBVillage to connect with others and receive compassionate help and support for learning to love yourself.
Photo by Josh Felise

Attribution-NonCommercial-NoDerivs
CC BY-NC-ND

Send this article to a friend

Print this article

Bookmarked 6 time(s)
Comments

Daily Inspiration
Perfectionism is a form of control. "If I am perfect, then I can have control over how others feel about me and treat me." Life becomes much easier and more fun when we let go of having to be perfect and allow ourselves to be human.
By Dr. Margaret Paul