Creativity
Creativity is a gift that all of us have. We each need to learn how to best express it. We need to discover what expressions of our creativity fill us up and bring us joy.
Photo by Luis Davila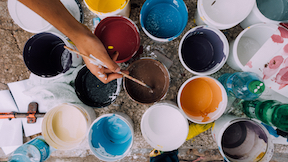 Daily Inspiration
Do you play enough? Do you have creative time? Do you have enough fun? Do you have enough laughter in your life? Do you get enough rest? Do you get done the things you need to get done? Today, focus on creating balance in your life between work and play, between doing and being, between time with others and time alone.
By Dr. Margaret Paul