Creativity
Creativity is a gift that all of us have. We each need to learn how to best express it. We need to discover what expressions of our creativity fill us up and bring us joy.
Photo by Luis Davila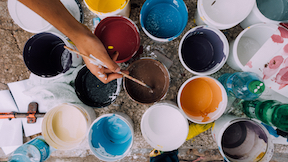 Daily Inspiration
The child's eyes looked at her, big brown eyes, innocent and filled with love, a child of love. Her heart melted as she gathered him in her arms, tears in her eyes, her loneliness evaporated in the moment of unfettered connection. Today, let us allow the pure and loving Child within to shine forth, sharing love with each other.
By Dr. Margaret Paul