Creativity
Creativity is a gift that all of us have. We each need to learn how to best express it. We need to discover what expressions of our creativity fill us up and bring us joy.
Photo by Luis Davila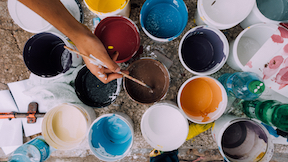 Daily Inspiration
Are you hanging on to the past as a way to not be responsible for the present? Are you blaming your present on your past? If you are, then you are still operating from the beliefs you concluded long ago. Opening to exploring your limiting beliefs in the present, and bringing in the truth from Spirit, will help you to release the past and be fully present to manifest your Self.
By Dr. Margaret Paul