Creativity
Creativity is a gift that all of us have. We each need to learn how to best express it. We need to discover what expressions of our creativity fill us up and bring us joy.
Photo by Luis Davila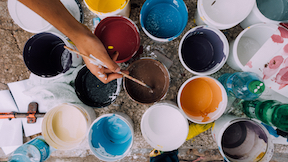 Daily Inspiration
Today, notice all self-judgment as a form of control. "If I judge myself, then others won't judge me." "If I judge myself, I can get myself to perform, to accomplish, to do it right - and then people will like me." "If I judge myself as being flawed and therefore the cause of others' rejecting behavior, I can continue the illusion that I cause - and therefore control - others' feelings and behavior." Today, notice your false beliefs about judgment and control.
By Dr. Margaret Paul