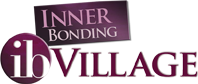 Groups
The Inner Bonding Village supports a number of interest groups for the benefit of our members.
Groups can be for keeping in touch with friends that you met at an Inner Bonding Event.
Groups can also be topical in nature, where members can support one another with specific shared issues.
Group members can share their photos of events, such as Intensives, with each other.
Feel free to browse and join groups that interest you.
If you have questions, send a message to the group owner or just contact us.
If you want to start a new group, please contact Margaret with the category and name of your group.

Daily Inspiration
Today, think about softness - the softness of your smile, of your kindness and caring, of the tenderness of your touch. There is such power in softness. Today, discern the difference between softness and weakness. Weakness is allowing others to run over you and control you. Softness is the result of a powerful loving Adult standing in your truth and being unafraid to express your love.
By

Dr. Margaret Paul

Loving Action
Hello Everyone! Welcome to Loving Action.


Today, pray to be an instrument of love and peace. Pray for help in staying open to learning and loving yourself and sharing your love with others.

Comment on Prayers That Bring Joy
---